Hello wonderful people of the interwebs!
Today, I am going to sharing with you all my Target Wishlist for spring! It doesn't mean I have a wishlist for every season, it just that I am going to target very soon and I want to collect somethings that I might buy! Now you are probably wondering why "I am going to target very soon" sounds very weird. You see, people just stop by Target, no big deal. But for me, Target is like 30 minutes. Its like a few cities away or so. So I often opt for Walmart. And they don't really have a wild range of cute cheap styles of clothing. Plus, my mom thinks they are very cheap and will give you rashes. What goes up in her brain?
I really want to go to target because they have really cute shirts and shorts. and my wardrobe is at the blandest it could be. I haven't been "real" shopping in YEARS. Yup, YEARS. 365 days! So with my first year of middle school almost over and 2nd year coming up, I need to update my wardrobe STAT! I want like really cute shorts that are denim and cute patterned shirts. But I want it to have a sporty feel because I don't want to be looked at as a wanna be fashionista because that is embarrassing. You either got it, or ya don't. just looked at the styles they had and I picked out a few wishlist items that are short and they cute!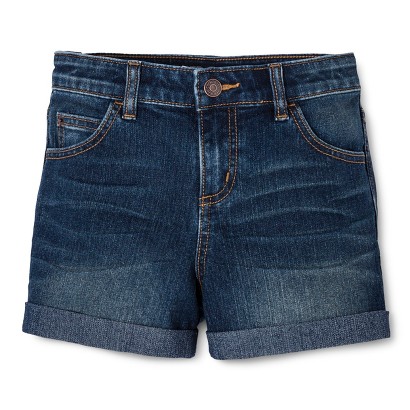 $9.00 online price
Cherokee® Girls' Shorts - Assorted Denim
$14.99 online price
Cherokee® Girls' Jean Shorts - Denim
$7.00
Cherokee® Girls' Denim Shorts - Assorted
Cherokee® Girls' Jean Shorts - Light Denime
You probably can tell a generally theme that I like denim shorts. ha ha ha But their shirts weren't that out of the par. They were more 8 year old shirts and not for middle school. But if you look at the active wear shirts, thats where it's at! But on the online store, they don't have many that I like. :( But here is one:
$12.99 online price
C9 by Champion® Girls' Long-Sleeve Cropped Dance Top
And when I go to target, I probably will buy some beauty products and unleash my inner beauty blogger. ha ha ha! I probably will have a budget with 100 dollars because I have been saving up! :D
♥
CATHY